Chutneys are a wonderful addition to any dish. They stimulate digestion and balance any meal due to the range of tastes they provide.
Cashew Nut Chutney (fresh)
Prep time 10 minutes makes a little over 1 cup
Ingredients:
1 cup raw cashews bits or halves
1/4 tsp. lemon juice
1 teaspoon salt
1/2-inch piece of peeled fresh ginger root,sliced
1-2 hot green chilies, seeded and chopped up to 1/3 cups water
2 tablespoons chopped fresh coriander
Method: Combine the cashews, lemon juice, salt ginger and chilies 1/4 of cup water in a food processor fitted with the metal blade, or a blender, and process until smooth, adding more water as necessary to produce a loose puree. Transfer to a bowl, add the fresh coriander, and serve or cover well and keep refrigerated for up to 3 days. Note: This chutney thickens as it sits. Thin it with water to the desired consistency.
Fresh Coconut & Mint Chutney
Prep time: 15 mins – Makes 1 1/4 Cups
1-2 chillies, seeded and chopped
½ inch peeled chopped fresh ginger
10 blanched almonds or cashews
1/3 cup water
2 tablespoons lemon juice
1 tablespoon raw sugar/maple syrup
1 teaspoon salt
1/3 cup trimmed fresh mint
1 cup grated fresh or desiccated coconut
Blend the chillies and ginger until they are minced. Add the nuts, process until they are ground. Add water, juice, sweetener, salt and mint, and process until smooth. Then add the coconut and continue to process until the chutney is creamy and smooth. For a thinner consistency add plain yogurt or milk. Will keep for 1-2 days covered in fridge.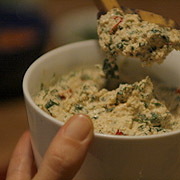 Fresh Coriander Chutney
Prep time: 10 mins – makes 1 cup (240ml)
1 teaspooon cumin seeds
3 tablespoons (45ml) sesame seeds
¼ cup freshly grated coconut ore ¼ cup chopped almonds
1 full cup (240ml) trimmed fresh coriander
1-2 hot green chilles, seeded
½ inch peeled chopped ginger
2 tablespoons water
¼ cup sour cream/yogurt (optional)
1 tablespoon raw sugar/jaggery
1 teaspoon salt
Combine the cumin seeds, sesame seeds and coconut or nuts in a heavy frying pan and place over low heat. Dry-roast, stirring frequently, until the coconut or nuts darken a few shades. Combine this mixture and remaining ingredients in a food processor and process until smooth. (you may need to add more water). Covered well, will keep for 2 days in fridge.